SCIEX8月招聘信息
2015-08-17 15:40 {{clickNum}}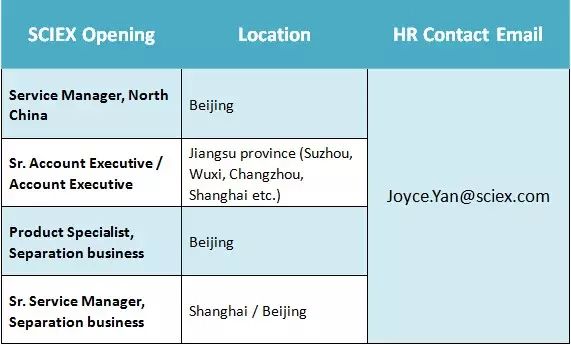 District Service Manager, North China
Reporting to: Senior Service Manager, China
Responsibilities:
Keeping good communication and relationship with customers, solving escalation issues whenever happened.




Drive service business in China by introducing our service products to customers and frequently visiting key decision makers.





Develop new service business opportunities by joining customer meetings regularly, and keeping contact with customers who have no service call for long time, to find more opportunity.




Responsible for service team management, solving customer issues, give front line FSE technical support.




Responsible for technical workshop and local training for China FSE.




Lead service projects and provide technical solution including local solution for better resolving customer issues.




Lead new hired FSE to build strong technical skill and service model, to standardize service activities.




Lead service project by developing business opportunities from obsolete instrumentsand 2nd hands instruments, to win service revenue and instrument repetitive buying.



Education/Experience:
Excellent communication skill and customer handling skill.





8 years or above experience is an advantage.





Management experience of field service.

Self-motivated and target oriented.




Clearthinker and problem solver.

Strong technical skill and service experience of Sciex LCMS products, familiar with all product lines of Sciex products.
Sr. Account Executive / Account Executive
Reporting to:District Sales Manager
Purpose:
Identify and contact prospective clients, generate sales opportunities, and service existing accounts to achieve sales targets.
Key Responsibilities:
Responsible for the sale of MS products in the assigned sales area.

Ensure that MS products are represented in the territory in order to achieve quarterly and annual targets.




Develop and explore business opportunities in the territory.




Prepare sales forecast report both quarterly and yearly with high accuracy.




Develop and maintain relationships with key customers.




Drive and initiate development of new business opportunities and references.




Increase sales by actively selling and developing tactical plans to maximize revenues.




Organization of meetings or other communication channels to ensure effective communication across functional units.




Collect and provide market information to marketing peers.




Detailed technical explanation of MS products and application inseminars and exhibitions.
Education/Experience:
Bachelor's Degree (B.S./B.A.) or up in a scientific discipline(Chemical, Biology, Pharmaceutical, Medical & related subject) required.





At least 2+ years relate drelevant experience.




Be proficient in computer software (word, excel, PowerPoint, etc.)




Be able to work under pressureand in a high efficient environment.

Good presentation, interpersonaland negotiation skills.




The ability to build, maintainand nurture long-term relationships with customers.




Good track record of successful sales experience in Chemical, life-science & Pharmaceutical market.
Product Specialist, Separation business
Reports to:China Sales& Marketing manager, Separations business
Work Location:Beijing,China
Key Responsibilities:
The position will be based in Beijing and will be responsible for applications and market development of CE product line (CESI/PA800/MDQ/GeXP) in China Region.
The incumbent will be responsiblefor, but not limiting to the following duties:
To support sales team & dealer, including product training, selling tools editing.




To carry through market education & publicizing, including product presentation, new application development.




To participate in the product register, new product launch.




To collect & update market information, including competitors, market trend, customer expectation etc.




Implement marketing activities such as seminar and workshops.




Customer application training and troubleshooting.




Develop new applications and marketing tools for the sales teams.




Develop and maximize relationship with key customers to help product sales.
Experience and Profile:



Master degree or above in Science (ideally in Molecular Biology)




At least 2 years application work experience in related industry.




Strong technical background in Molecular Biology, Gene Expression analysis, Protein analysis and some kind of LC knowledge.




Good technical and product knowledge in Separations science.




An understanding of the Capillary Electrophoresis technology would be an advantage.




Dynamic, self-motivated and driven; independent and proactive.




Excellent time management skills.




Target and results oriented.




Demonstrated interpersonal skills.




Collaborative and team oriented work style.




Excellent verbal and written communication skills.




Strong presentation skills.




Willing to travel as business requires.




Highest levels of personal and professional integrity and ethics.




Working knowledge of reading and written English language communication.




Experience with personal computer, e-mail, and Microsoft Office programs.
Senior Service Manager
Location:Shanghai
Reporting to:Global Director of Service - Separations
Purpose:
Lead the Sciex Separations Service Team, in APAC, in the most effective and efficient way possible, achieving the company's commercial and growth targets while ensuring the highest level of customer satisfaction. Drives the team to achieve specific Service related targets as defined in the service KPI's for service growth, order volume, revenue and profit, while complying with Sciex policies and procedures. Support Field Service Engineers (FSE) to meet management and operation standards, maintain financial control over expenses, drive company policy, keep associates engaged and provide associates with clear development plans.

Key Responsibilities:
Be the trusted advisor for our customers to ensure professional relationship and advise the customer the correct service solution to achieve customer loyalty and ensure highest level of customer satisfaction.




Be the owner of customer satisfaction for the region.




Participates in determining the Separations APAC service strategy, policies and procedures in accordance with Global service strategy.




Translates the strategy into concrete programs to achieve service revenue, order, margin and growth targets.




Provides accurate revenue and order forecast for the relevant region on a monthly basis.




Monitor Separations APAC Service KPI's on a monthly basis and implement route cause analysis and sustainable countermeasures when below target.




Active involvement in service contract renewals, warranty and billable conversions to achieve service order, revenue and profit targets.




Participates in Global Service Projects.




Work closely together with the commercial organization (sales, support & customer service) to meet upfront service and sales revenue targets.




Lead the team and drive the behavior in order to achieve the highest individual and team performance by setting individual targets.




Uses the Career Portal as a tool to develop, track targets and execute effective reviews to drive compensation changes for the team.




Communicate effectively with the team to share information and to ensure high levels of motivation.




Identify any issues within the team and develop sustainable countermeasures.
Education/Experience:
Completion of a Bachelors Degree in Business, Biochemistry, Biology, Electronics or Instruments. Master Degree is preferred.




Excellent leadership & management skills. Minimum 3 years experience as a service supervisor, team leader or service manager in Bio-Science, health care, instruments with significant exposure to one of the following: service business, customer service, service management.




With experience of manage service business more than 1-2 M USD is preferred.




Basic knowledge of service, repair, biology, instrument and management.




Good communication skill with internal and external customers.




Fluently speaking/reading/writing in English.